Contact CQ Marine Services
Phone: (07) 4825 0806
Email: admin@cqmarineservices.com.au
24-26 Charles St, Yeppoon – Queensland 4703
Meet the Team
Ashley Lehmann
Owner / Director
Ash first started CQ Marine Services in 2011 as a mobile technician, creating a fantastic reputation and customer base, In 2017 we decided it was time for the next step in our business and open a Workshop / Chandlery department.
Ash enjoys (Working too much) being on the water, camping and a good beer with a few mates.
Monique Lehmann
Owner / Director
Monique first came into CQ Marine's life in 2014 and took over all the "Behind the scenes work". Monique is now the first friendly face you'll see as you walk through the door and will book in your services and repairs (Even remind you when you're ready for your next service).
Monique enjoys camping, the beach, her furbabies and self-development.
Lachlan Foxlee
2nd Year Apprentice
Lachlan approached CQ Marine Services in 2018 to secure his apprenticeship, Lachlan has grown into a young man and also a very valuable employee.
Lachlan enjoys boating, fishing, camping and his cars.
Roz Lehmann
Delivery Driver / On Call Star
Roz has been a big part CQ Marine Services since opening our premises, working casually in our chandlery department (also another first friendly face) and running around town collecting /delivering parts to keep our workshop flowing.
Roz enjoys spending time with her family, travelling in her caravan and been creative.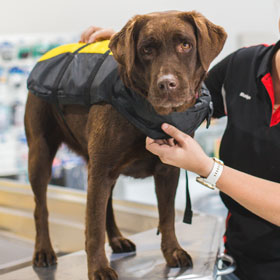 Ace and Coco
The Guard Dog's
Ace and Coco are valuable employees, they will greet you at the door and wag their tails.
Ace and Coco enjoy laying around waiting for customers to come in, getting pats and every so often stir each other up with a play fight.